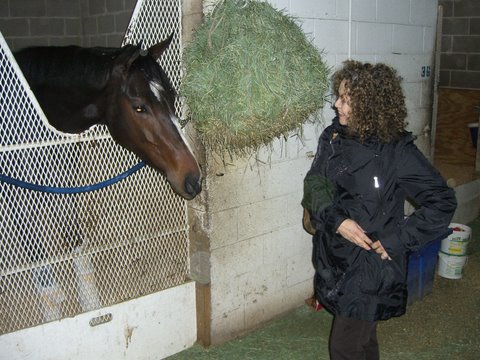 Posted by Avram Freedberg

I put on my sunglasses as we neared the airport to go home. I had to say that I used them at least once! Nonetheless, we were pretty lucky. Though it was very cold when we arrived on Friday, the rain held off until evening, so we got to take a buggy ride through the French Quarter, eat our Beignets, walk around a bit and visit Rachel in her stall at the Fairgrounds Race Course before the rains came. We even found an Iranian named Naghi, who had several storefronts in the French Quarter, one of which had an Israeli woman named Etti behind the counter. She tried to set us up with the New Orleans Chabad for Sabbath services and a meal. We would have gone but for the rain.
They must love to cook in the South because our trips to Charleston and now New Orleans have been filled with great food. The food was always good (except at Fairground Race Course, though they did cook some great smelling oats for the horses)! GW Fin, Antoine's and Commander's Palace all had at least one outstanding selection.
The impetus for this trip was the opportunity to spend time with 2009 Horse of the Year, Rachel Alexandra (the Eclipse Awards were presented last night. We thought Zenyatta would win because many media polls showed her to be the favorite, but Rachel pulled it out). We got to see her on Friday and snuggle her in her barn and stall. Then, we froze out extremities (and other body parts) when we saw her jog and gallop at 6:30 AM on a frigid, windy Sunday morning. Finally, we got some more snuggling on Monday at the barn before our departure (and after we watched and lost on four races at Fairgrounds). Amy Kearns was our "handler." She did a great job shepherding us around, including picking us up at 5:40 AM on Sunday and taking us to the track and the airport yesterday.
Arielle's Song is entered to race in Florida on Friday. I wanted to go because there are many friends and family I have re-connected with after30+ years that I'd like to see. However, Linda doesn't think she will finish on top of this one and is using it as a further conditioning race. Nonetheless, despite the wonderful name she carries, if Arielle's Song doesn't start to perform soon, she will go the way of Ofcr. Sheila T Rex. Conseated Lady is also most likely to follow that path, since she had an awful workout recently. She was "coming out" as she ran. This indicates a recurrence of a physical ailment. As for visiting Florida, we decided to pass, since we have been doing so much traveling and are going to Israel in a few weeks. Hopefully, we'll get another chance in March or April. I miss Ahvee's Destiny.
Thank you all for all the name suggestions for both the Yes It's True and Midaeyes colts. (BTW, we bet on an unraced Yes It's True colt at Fairgrounds who was never in the race.) No name got more than three votes. I intend to make a decision this week and will let everyone know. Please don't feel badly if your selection is not used.
Hear the Footsteps had a nice workout last week. Hopefully, he will get to the races soon. Katy's Office Girl had an average workout last week in Florida.
All the best,
A.
To see more photos
Visit the Official Avram Freedberg website!